Chai Green Tea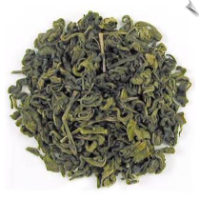 This tea is based on a green gunpowder (cannon style) tea. It produces a good green tea character with strong Indian spice notes. Certified organic.
Chimney Sweepings Herbal Tea Blend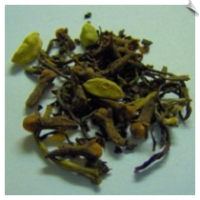 An out-of-this-world black tea concoction provides a jolt of electricity all its own. Combining Ceylon, Chai, Darjeeling and Oolong, it looks like soot but works like gold!!! Certified Organic.
Chrysanthemum Small Tea Pot Set

This beautiful tea set is a must for the real tea connoisseur! Each tea set comes complete with one 1- 1 1/2 cup tea pot with a stainless steal mesh infuser and six tea cups.
Clarity Check Herbal Blend Tea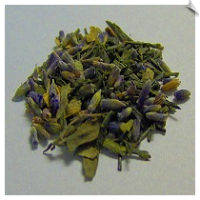 Through the power of these leaves and flowers comes an age-old remedy to boost memory and a clearer mind. Made of the finest. Certified organic.
Dragon and Pheonix small tea set

Beautiful small tea pot set with a gorgeous dragon and pheonix design.
Dragon's Breath Herbal Tea Blend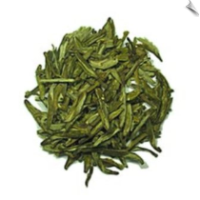 Made with the finest Dragonwell Green Tea, Ginger root, Cayenne pepper, Cinnamon, Orange and Lemon peel. Dragon's Breath is not for the faint of heart. Certified Organic.
Dragonwell Green Tea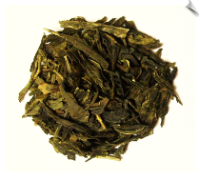 Dragon Well tea has a distinguished shape. Its leaves are broad and flat, a result of laborious drying. There is something to show for this hard work: Dragon Well tea is refreshingly smooth, sweet and delicate. Certified organic.
Earl Grey Green Tea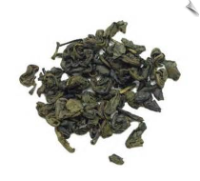 The natural flavor of oil of bergamot is used to enhance the flavor of an excellent Ceylon green tea, to produce a lively Earl Grey taste. Certified organic.
Glass Teapot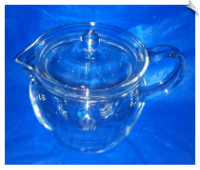 Handblown glass tea pot with diffuser.
Go Live Herbal Tea Blend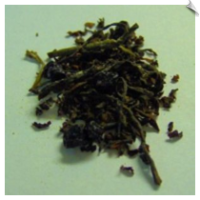 Extraordinary taste and rejuevenating results. An invigorating blend of Ceylon and Oolong Teas, Ginseng and dried blueberries. Certified Organic.
Gorilla Herbal Tea Blend
Imagine the boldness of Monkey Picked Tie Guan Yin Oolong Tea and the delicate taste of White Peony Tea combined to provide superior flavor packed with antioxidants and flavonoids of Gorilla proportion! A green and white infusion tea to be revered. Certified Organic. Only, if you dare…
High on Spiced Chai Tea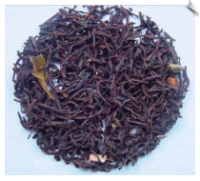 An ancient beverage savored for its rich, complex flavors.
Iron Clad Tea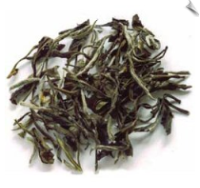 Boost your immune system and help knock down colds, flu, and bronchitis with our special blend of the highest quality white peony tea, goldenseal root and spearmint.
Meng Ding Huang Ya Yellow Bud Tea
Meng Ding Huang Ya is a legendary tea that is famous in China for its remarkable health benefits. The flavor is one of the more outstandingly unique among the 3000 varieties of true tea. It is a high, shimmering clean flavor that is guaranteed to entrance you. Certified organic.
Riding High Herbal Tea Blend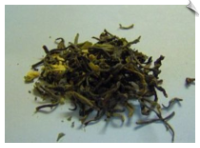 Se Chung Special Oolong Tea, Ginseng, Ginger Root, Lemongrass and Spearmint. A unique blend that will have your energy level RIDING HIGH!! Certified organic.
Tulsi Tea (Holy Basil)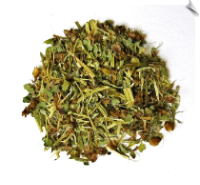 An incredible mixture of Rama & Krishna Tulsi (Ocimum sanctum) and Vana Tulsi (Ocimum gratissiumum). Tulsi, also known as Holy Basil, has been one of the most cherished healing herbs of India. This mixture of three basils provides a mild, but rich and delicious tea that soothes as it is ingested. Certified Organic.
Zip Tang Aphrodisiac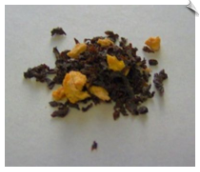 This blend is totally natural and the Bois Bande Bark ingredient has been used for generations in the southern Caribbean Islands for both men and women. Fused with Ceylon Tea, Ginseng, Orange Peel, Bois Bande Bark, Yohimbe Bark and Lemongrass, Zip Tang .