Rooibos Green Tea
Buy Now!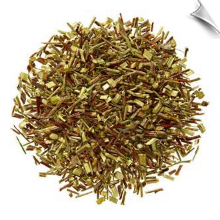 Click to enlarge image(s)
Unlike standard Red Rooibos tea, the Green variety is made by stopping the natural fermentation and oxidization process of the tea just after it's cut. Instead of being allowed to ferment for long periods of time, which is historically employed for Red Rooibos, the Green is withered immediately, steamed to prevent oxidation, and then rolled and dried. The resulting tea is more delicate, aromatic, and with a heartier herbal taste and lighter color. Scientific and institutional findings suggest that Green Rooibos has a higher concentration of many of the nutrients found in regular Rooibos tea, including flavonoids, anti-oxidants, and minerals. Modern medical institutes and most notably Japan have taken quick notice of the health benefits of consuming this beverage and have published their findings on Green Rooibos including the anti-viral, anti-spasmodic and anti-allergic properties found. Certified organic.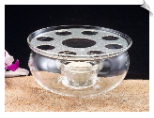 Tea Warmer
•Heat tempered glass with metal grate for holding your teapot. •Comes with one tea light candle.
Search by Keyword