Yerba Mate Herbal Tea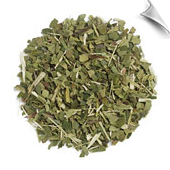 Click to enlarge image(s)
Yerba Mate contains a chemical compound called Mateine, which is thought by many authorities to be identical to caffeine with one exception, it doesn't cause jitters. Like caffeine, it has a stimulating effect on metabolism. A faster metabolism not only means you burn more calories, it means you turn more calories into energy. As it stimulates the metabolism into turning more calories to energy, it simultaneously soothes the nervous system. You feel less nervous and anxious, and you're better able to resist physical and mental fatigue. Athletes drink it to improve physical endurance and performance; students and executives drink it to improve concentration and alertness; families drink it to improve their overall health and to protect against stress. Start enjoying its benefits today. Certified organic.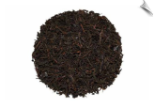 Cream of Earl Grey Tea
Blend of Earl Grey and Vanilla bean. Makes a nice cup of tea!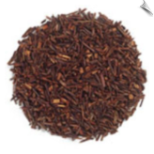 Red Rooibus Tea
Rooibos Tea is prized for its great flavor and contains important minerals and vitamins.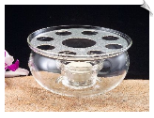 Tea Warmer
•Heat tempered glass with metal grate for holding your teapot. •Comes with one tea light candle.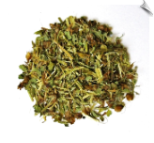 Tulsi Tea (Holy Basil)
An incredible mixture of Rama & Krishna Tulsi (Ocimum sanctum) and Vana Tulsi (Ocimum gratissiumum). Tulsi, also known as Holy Basil, has been one of the most cherished healing herbs of India. This mixture of three basils provides a mild, but rich and delicious tea that soothes as it is ingested. Certified Organic.
Search by Keyword