Chaparral Leaf

Click to enlarge image(s)
Chaparral Leaf has been used for thousands of years by Native Americans for a variety of purposes. The Cahuilla Indians used it for menstrual irregularities. In some cultures bathing in Chaparral once per year was customary to eliminate skin parasites and to detoxify the body.
Traditional Uses: Colds, flu, arthritis, tuberculosis, melanoma, parasites, urinary tract infections, respiratory infections, skin disease, diuretic, antiinflammatory. Certified Organic.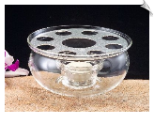 Tea Warmer
•Heat tempered glass with metal grate for holding your teapot. •Comes with one tea light candle.
Search by Keyword