Yerba Mate Green Tea Ginseng with Echinacea
This drink is quite unique in its taste. The ingredients are traditionally known to ease fatigue and restore your health by stimulating your immune system.
This ingredients are Brazilian Yerba Mate, Japanese sencha, echinacea pur. leaves, American ginseng, echinacea ang. root and Japanese matcha. You can add sweetener or milk, personally I enjoy the rich flavours without adding anything else.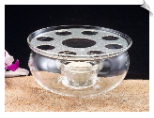 Tea Warmer
•Heat tempered glass with metal grate for holding your teapot. •Comes with one tea light candle.
Search by Keyword