African Honeybush Tea
What a taste!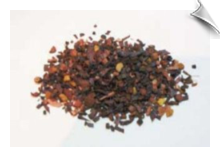 Click to enlarge image(s)
Honeybush is indigenous to the cape of South Africa. It is used to make a beverage and a medicinal tea, having a pleasant, mildly sweet taste and aroma, somewhat like honey. It has become internationally known as a substitute for ordinary tea. One of its early recognized benefits as a tea substitute is its lack of caffeine, which makes it especially suited for nighttime consumption and for those who experience nervousness and want to avoid ordinary tea. Contains potassium, calcuim, antioxidants, isoflavones, high in Vitamin C, rare trace minerals, and coumestans. What's not to love about this fabulous tea? Order today and enjoy its benefits right away! Certified organic.