Chrysanthemum Small Tea Pot Set

Click to enlarge image(s)
This beautiful tea set is a must for the real tea connoisseur! Have a tea party with your friends or just tea for you! Each tea set comes complete with one 1- 1 1/2 cup tea pot with a stainless steal mesh infuser and six tea cups, made of high quality ceramic! The tea pot comes with a detachable wicker handle. Each set is beautifully packaged in molded faux satin interior; the exterior of the box is red and marked with traditional Chinese characters. Not dishwasher safe, hand wash only! Hurry, these beautiful sets won't last long they are limited quantity and selling out fast!!!!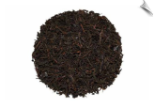 Cream of Earl Grey Tea
Blend of Earl Grey and Vanilla bean. Makes a nice cup of tea!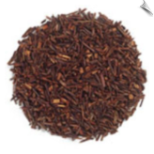 Red Rooibus Tea
Rooibos Tea is prized for its great flavor and contains important minerals and vitamins.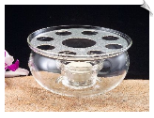 Tea Warmer
•Heat tempered glass with metal grate for holding your teapot. •Comes with one tea light candle.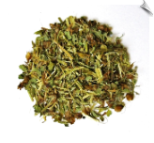 Tulsi Tea (Holy Basil)
An incredible mixture of Rama & Krishna Tulsi (Ocimum sanctum) and Vana Tulsi (Ocimum gratissiumum). Tulsi, also known as Holy Basil, has been one of the most cherished healing herbs of India. This mixture of three basils provides a mild, but rich and delicious tea that soothes as it is ingested. Certified Organic.
Search by Keyword