Wild Cherry Bark

Click to enlarge image(s)
Wild cherry bark is an important cough remedy. Once ingested, the cyanogenic glycosides are hydrolized to glucose, bensaldehyde, and hydrocyanic acid, otherwise known as prussic acid. Prussic acid is excreted rapidly, largely via the lungs where it at first increases respiration and then sedates the sensory nerves which provoke the cough reflex.
Other Uses: Bronchitis, whooping cough, asthma, nervous dyspepsia, and chronic diarrhea.
Although prussic acid is highly poisonous, if wild cherry bark is used in medicinal doses, the low prussic acid content (0.07 - 0.16%) ensures that the remedy is quite safe. Wild cherry bark also improves digestion. Wildharvested.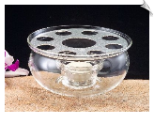 Tea Warmer
•Heat tempered glass with metal grate for holding your teapot. •Comes with one tea light candle.
Search by Keyword