Pau d'Arco Bark

Click to enlarge image(s)
South America's "Tree of Life"
Pau d'Arco Bark strengthens the immune system, supports the blood, helps the body replenish vital elements, improves appetite, fortifies the body against viruses and germs, and assists the detoxification process. Pau D' Arco bark comes from a tree that grows primarily in Argentina and Brazil. The tree is known as taheebo. Wildharvested.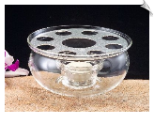 Tea Warmer
•Heat tempered glass with metal grate for holding your teapot. •Comes with one tea light candle.
Search by Keyword